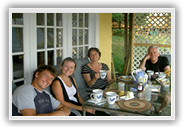 We offer delicious home cooked breakfast!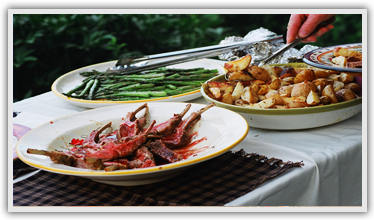 Enjoy the home cooking of The Bluff. The meals are personalized for you by the owner, Paul Bryant. Paul is a chef of celebrity in the region. His creativity and attention to detail have earned him exceptional reviews*. Paul's cooking has even been featured on PBS https://www.youtube.com/watch?v=S3WAm6Af4X0 Paul loves to surprise his guests with his creations, and the menu at the Bluff has been carefully selected for your dining pleasure. Selections include French, Italian, Spanish and American cuisine. .
Start your day lavishly by selecting from our full breakfast menu. All breakfasts include coffee, tea, milk, fresh fruit, juice, bacon, eggs, bread, home fries, jams, preserves, yogurt and cereal. In addition, guests will have their choice of one of the following: waffles, pancakes or crepes. We buy locally grown produce and use only the freshest ingredients.
Our Gourmet Menu

Our gourmet menu choices include 10 four course dinners. All of our meals are served home style and when weather permits, will be served outside on the veranda.The choices are:
1. Maryland Crab cake with soup or salad, appetizer and desert 2. Filet Mignon with brandy and peppercorn sauce, soup or salad, appetizer and desert 3. Paella ( shrimp, chicken, chorizo sausage, with saffron rice olives carrots and peas ) soup, salad and desert 4. Chicken and shrimp in red sauce and pasta, soup or salad, appetizer and desert 5. Pasta and White clam sauce, soup or salad. appetizer and desert 6. Scallops with potato and Orange sauce, soup or salad, appetizer and desert. 7. Southern Fried Chicken, soup or salad, appetizer and desert 8. Perch and Shrimp with diced tomatoe and capers sauce, soup or salad and desert 9. Puttenessca with Shrimp, soup or salad, appetizer and desert 10. Shrimp creole over rice, soup or salad, appetizer and desert .
Casa de Tapas
Do you prefer a variety of dishes with European or Mediterranean flavors? Try The Bluff's "Casa de Tapas" Choose up to 6 dishes (per room) from 10 available dishes:
1. Crispy Shrimp Fritters 2.Flamenquin ( thin pork roll w/ham) 3. Spicy Clams 4. Grilled Spring Vegetables 5. Bacalao con Tomate ( Cod fish with tomato sauce ) 6. Hojas Verdes con Queso de Cabra Gratinado ( Greens and Goat Cheese ) 7. Spicy Shrimp 9. Fried Calimari with spicy sauce 10.Scallops with potato in Orange sauce. 11.Italian boullabaisse ( shrimp, mussels, clams and cod in a delicious soup).

Whether you have a taste for something hot and spicy or have a sweeter, lighter palate, The Bluff has the perfect dish for you!

Our rates are based on double occupancy.

Breakfast is served before 12 p.m. daily.
Please inform us of any food allergies at the time of reservation!